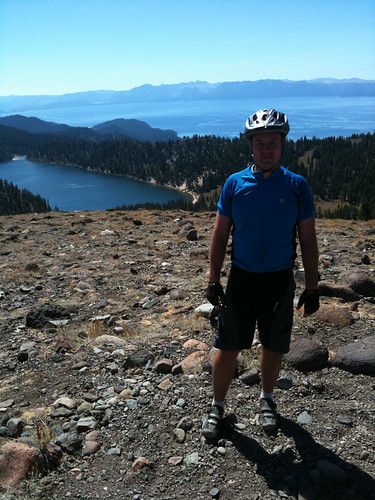 I'm wrapping up a perfect mountain biking weekend with some old friends. We've been riding our brains out for three days up in Lake Tahoe. One of the guys used to own his own bike shop, so he became defacto group-support on the trail. What a luxury it is having a mechanic on the rides; the slightest mechanical issue gets resolved in an instant. He also turned out to be a great cook, so instead of constantly eating out, we had fabulous home cooked meals to start and end the days. You rule Buck.
About half of the group consisted of locals (Truckee, Tahoe Donner) that one of my friends befriended when he lived up here for a few years. The local connection is always priceless. The right trails, the right subtleties, the right everything, instead of fumbling around like a pure tourist. One of the group owns a restaurant in Reno ("Beuno Grill"), and his annual community party coincided with our trip so we partied there last night. Great people, great time.
The main rides:
One of my favorite things about riding a hard-tail bike is when I get mixed in with soft-tail riders. There's nothing like being told "you can't do this trail on that" by a softie, and then beating them to the finish. I did get to ride some ultra-plush custom Ventanna full-suspensions though. I have to say, really nice rides, but just too disconnected from the trail. I need to feel what's going on underneath me, not be shielded from it. That makes for a good segue into one of the cool cars that came up.
The car enthusiast in the group brought up his new tricked out BMW M5 (500hp). While a killer ride with amazing power, the entire system is "drive by wire." Driving it was almost confusing as I lacked direct connections to the brakes, gearbox, and throttle. I want to be directly connected to a car with that much power. While BMW had done an incredible job pulling it all together, it was obvious there was a computer between me and the road.
I've been on V-Brakes forever, but after riding some HOPE branded hydraulic disk brakes, I'm going to switch over. The stopping power is incredible, and my forearms could use a break. I'm going to stay hard-tail though; all hard... all the time.
Great weekend. Nice to catchup with old friends. Nice to grind out some epic rides.