WARNING, this post runs into high corny factor in a hurry. I'm also going pretty stream-of-consciousness-style because I'm too tired to polish and think clearly.
24 hours ago Gnip's (the social media API) Big Boulder conference wrapped up in Boulder, CO. It was one of the most amazing experiences of my life. A culmination of happiness, joy, pain, love, passion, sweat, tears, stress, belief, sacrifice, and faith.
At the end of the day before the event began, I got home around midnight. Flopped onto the bed and talked with my wife about what was about to happen. About six years ago I flung myself into the Boulder tech community, and now it was the eve of Big Boulder. Of course I understood the significance of the event itself, but it had turned into something else for me. I still can't crisply describe it, and I'm sure I'm still delirious from exhaustion, lack of sleep, and adrenalin, but I wanted to get some of this out of me. We told ourselves we wouldn't draw any conclusions (positive or negative) about the event for two weeks following, because we didn't want our exhausted state of mind to contort truths, but I realized I wanted to document some of these feelings now for memory's sake.
I'm in awe with what team Gnip has become, and accomplished. For those wondering "how we did it" (both the conference itself, and the transition from "startup" to a real business), the answer is simply, amazing people. I can unequivocally say that the team is it. It all starts there. Without the right set of people aligning with common beliefs, you have nothing. I'm eternally grateful for what everyone poured into this event, and into the company. Money, equity, and "thank yous" can't express the gratitude I want to express enough. All I can do is hope that each one of us understands these importance and value of these moments in time. Not only the personification of them in events like Big Boulder, but also in "company" form. We effectively live with eachother week-in and week-out.
Continuing on that people theme, the quality of everyone at the event struck my core. Hundreds of fun, smart, great, passionate people (friends, customers, prospects, partners, family). I was quickly overwhelmed by the greatness of humanity. We're all struggling to build amazing things, and solve amazing challenges, and we all have awesome lives and experiences. The sharing that went on (business and personal) was just incredible.
The ecosystem Gnip saw 4.5 years ago is thriving. I still can't believe we're here. Hundreds of millions of dollars exchanging hands (excluding "ad revenue") under the umbrella of social data. The flagpole Eric Marcoullier and I planted several years ago is paying off. I sometimes just can't believe it.
Publishers and public social data consumers in the same room exchanging ideas. Four years ago this notion was nothing more than a pipe-dream. 24 hours ago, it was reality! I'll never forget Eric paying $6k (against every fiber in his body) for some Forrester Report that described some area/space/vertical/category (I don't even recall what it was) ad-nauseam. He then bought a printer to print it out. He studied it for days... trying to piece together components in the ecosystem we had growing in our heads. How could we translate this into a business? Who would pay? What would they pay? The report gave us some scope/scale insight. We shelved it pretty quickly, but it was enough for us to look at each other and say "yup, there's money in that hole somewhere... let's figure out how to pull it out." Big Boulder was the progression of this ecosystem, and the progression of the Gnip team has carried the torch to where the ecosystem is today. We're still so early, but not only is there life on this planet... it's intelligent and expanding at an incredible rate. The continued scaling of Gnip charts the overall ecosystem course going forward. Being a part of this is overwhelmingly wonderful to me.
People flew to this event from all over the world. Can you believe that!?!
At the end of the event about 30 people joined a bike-pub-crawl. I rode next to Stu with Textifer. If you don't know him, he is one of those people that sees the bright-side in everything. He is happy. He understands life. The several blocks we rode together put everything in perspective for me. When we got to the second bike-stop, he ran over to the pop-water-jets on Pearl St. and splashed water all over his head. I _love_ that stuff. I _love_ it when life permeates us like this. I love people who break out of the molds. It's simple stuff like this that makes it all worthwhile. Thanks Stu!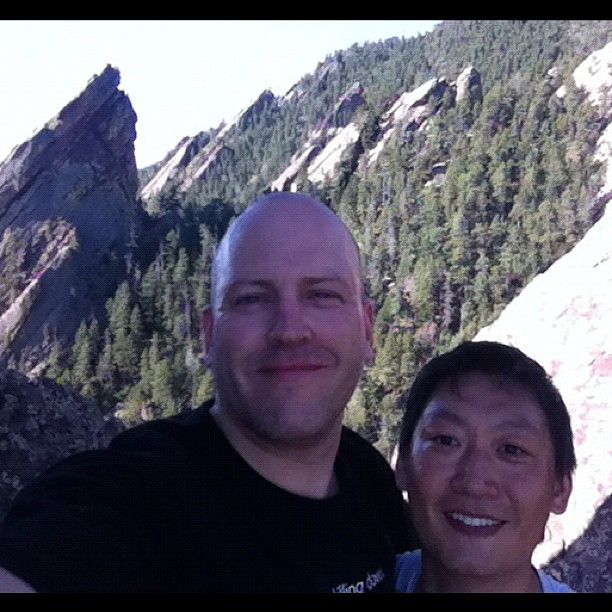 Passion around software always blows my mind. Michael Wilde with Splunk personifies this. I _love_ how he _lives_ software. Parts off of so many shelves comprise his world. If you know him, he also _lives_ life. He was late to the start of day two, and I saw him first that day when he blew into the "speaker's room" dripping with sweat; "we did it!" He yelled. Sleepy and focused on going on stage in just a few minutes, I couldn't figure out what he was talking about. "We made it all the way to the top!" He was talking about the hike we'd organized that morning. He and @zhu had summited the 1st Flatiron! So cool!
The homefront was like a support station during a bike race. Briefly visited during the past week, but required for sustenance (family love, food, sleep). My wife... my life... thank you.
This past week has been affirmation that I've spent the past six years of my life wisely; I can't wait for the next! All we've done up until this point is establish a foundation. Now comes the real work!