My company, Gnip (a social media company), blew the doors off of 2012. The business grew tremendously, we saw concrete manifestation of an ecosystem we've visualized since the beginning, and the product lit up business after business with the public social data they needed to bring value to their own customers. It was awesome!
That's behind us now though; 2012 is gone. 2013 is here. What now? Can we crush it again? One thing I hear over and over is "well, the number is bigger now, so continued X% month-over-month growth is harder. Be careful with the expectations you set; be realistic." From a business and experience standpoint, I get that, but from an entrepreneurial standpoint, forget it!
There's a lot of talk this time of year around how to think about targets and goals. Just like everyone else dedicated to building great things, I've been mulling, and discussing, this with a bunch of folks recently. Here's how I'm thinking about it after several weeks of trying to get my head around approaching "targets" and "goals."
These are the three trajectories that Gnip can take in 2013.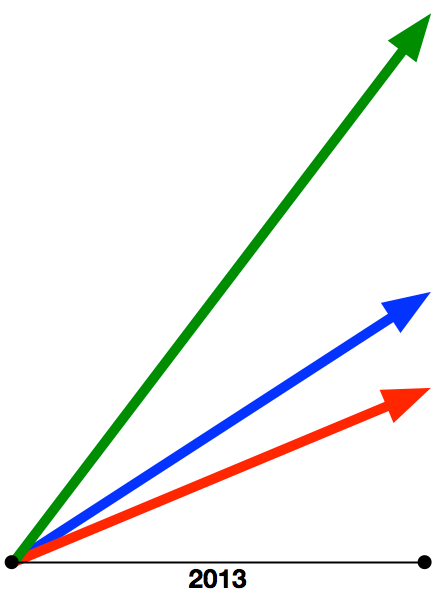 The Red Line
This is status quo. We have a business that's working. We can continue to work it and life will be good at the end of 2013. This is our safety backstop.
The Blue Line
If we push hard, successfully build some new products, effectively sell them, push out of our comfort zone and expand in a variety of operational/execution areas, we will hit the Blue Line.
The Green Line
This is what we wake from our cold-foxhole on the battlefield every morning for. This is why we are at Gnip. This is what we fight for everyday. This is why we do what we do. We want to hit some big target that simply wasn't feasible on day one. We want to hit something that feels very uncomfortable and scary in the moment of discussing it. We want to hit something that isn't tangible at the beginning of the year.
Every company has these three lines (all with different starting points of course) and you can invoke their trajectories whenever you want. As I look out on 2013, Gnip has a set of things we can do to achieve each one of those lines. Our job is to execute on the set of things for the trajectory we consciously decide to pursue, each and every day of 2013.
The questions you should ask yourself are what are the sets of things associated with each trajectory, and which trajectory do you want to execute on?